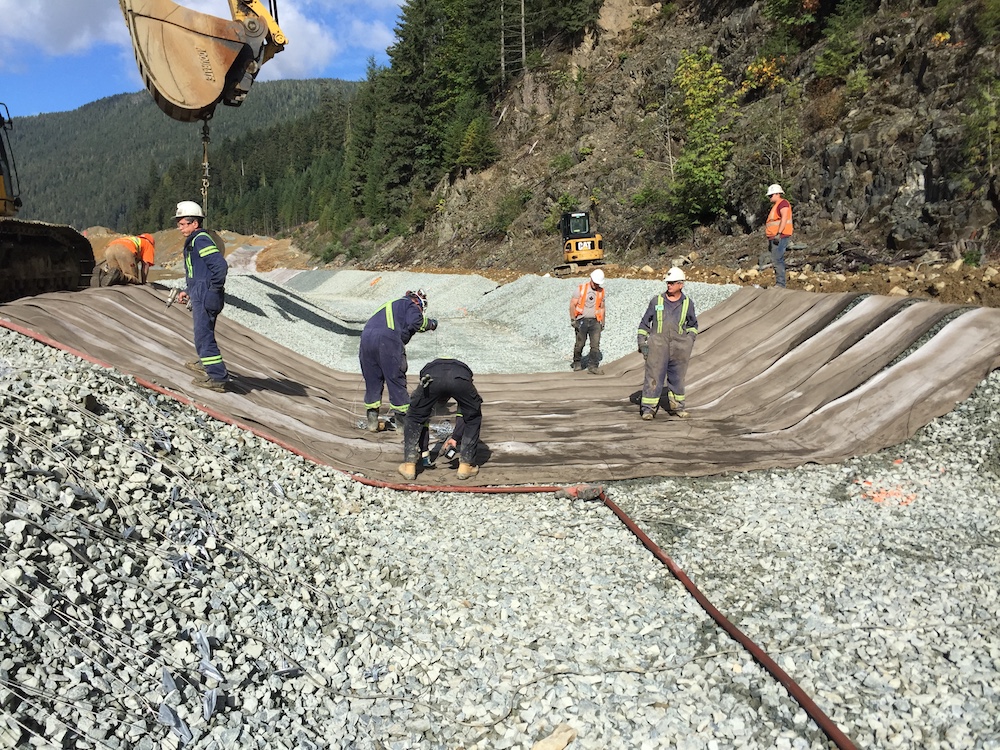 In the scenic Myra Falls region of central Vancouver Island in British Columbia, Canada, a copper and zinc mine needed to rehabilitate a ditch that conveys clean water from a nearby hillside to a creek below. The 735-meter-long ditch originally was lined with shotcrete, but the material began to degrade.
The ditch also needed widening and realignment in order to better accommodate increased flows during the island's rainy fall season. Finally, the project had to be completed quickly—it was set to begin in the late summer, and the pipes that diverted the hillside water from the ditch would not be able to handle the increased flows that were expected to begin in early October.
Contractor Nuna Innovations considered a number of options for the project, including installing new shotcrete, but it ultimately decided to utilize Concrete Cloth geosynthetic cementitious composite mat (GCCM) from Milliken Infrastructure Solutions. This product can be installed quickly, and it accommodates high water velocities and varying profiles, which made it suitable for this project. It also can be easily repaired, should any falling debris from the hillside damage it.
In early August, small crews began installing the 8-mm-thick Concrete Cloth, which was delivered to the site in bulk rolls that were positioned near where they were to be used in order to save time. With minimal special training and equipment, the crews completed the installation in approximately six weeks—just in time for the fall rains.
"We feel the project is important because Concrete Cloth GCCM and Nuna Innovations provided a solution to a very urgent problem in a cost-effective, timely and environmentally friendly way," said Jaclyn Deter, director of marketing operations for Milliken. "The aspect of the project we are most proud of is the ease of installation of the GCCM material and its versatility to conform to various substrates and design details, as well as [its] ability to meet the hydrotechnical and geotechnical aspects of the design."
Since the GCCM was installed, the mine has reported no issues with the ditch.
"The project met and, in most cases, surpassed all of the key stakeholders' expectations in all stages of the project," Deter said.