Highway department reduces cost of project by using its maintenance crew to install mats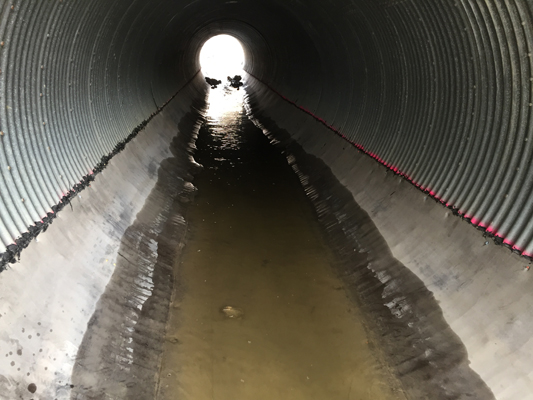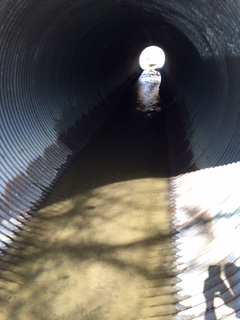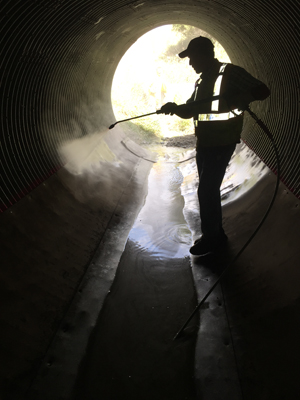 Rehabilitated culvert invert with CC8.
The invert of a 12-ft-diameter corrugated metal pipe culvert in Noble County, Ind., was experiencing minor pitting and rusting. The Noble County Highway Department needed a preventative solution to protect the invert from further abrasion and deterioration. The department wanted to make minor repairs instead of waiting for the culvert to get to a state beyond repair, where replacement and major rehabilitation are the only options. Milliken Infrastructure provided recommendations for the use of Concrete Cloth geosynthetic cementitious composite mats (GCCM). Engineers chose a thickness of 8 mm (CC8) for the project. Milliken assisted with the identification of the material quantity and offered onsite installation assistance for the job.
Existing invert with pitting and corrosion.
Rehabilitation Solution
The highway department attended a presentation on Concrete Cloth at the 2017 Purdue Road School and was intrigued by the application of the material. Compared to Concrete Cloth GCCM CC8, culvert replacement and concrete paving of the invert are costly options. With Concrete Cloth, county crews who received onsite installation assistance from a regional manager at Milliken Infrastructure could cover the invert. Before the GCCM was installed, the culvert had to be cleaned of all silt, and minimal voids in the invert had to be sealed with concrete to fill places that were completely rusted through.
Hydrating CC8 to harden fabric.
Results
It was decided that the panels of CC8 material could be laid longitudinally down the culvert to cover the desired area of the invert. First, the two side panels were secured, and then a center panel was laid atop the other two panels with significant overlap to prevent water ingress. The panels were secured to the culvert with stainless steel screws and sealed with a bitumen sealant. The Noble County maintenance crew longitudinally installed and hydrated 1,000 sq ft of the product in three hours. Lining the invert should extend the life of the culvert by significantly slowing down its deterioration rate. The highway department was pleased with the installation and wants to use the same fabric on several county metal culverts. The ability of the highway department to use its own maintenance crews to perform the work was a key cost saving for the project.