The city of Eugene, Ore., considers street sweeping a vital component of storm water management and uses storm water user fees to pay for the sweepers and their operations.
Mike Spangler, the city's storm water maintenance supervisor, credits Eugene's five-sweeper fleet—led by an Elgin Sweeper Crosswind regenerative air unit—not only with keeping storm water flowing, but also with removing a variety of safety hazards from more than 1,200 lane-miles of streets, preventing flood damage, reducing pollution of local waterways, and responding to emergencies, such as clearing debris from traffic accidents. The fleet includes two other regenerative air sweepers and two mechanical sweepers.
"We have an unusual combination of street sweeping challenges in Eugene," Spangler said. "For example, because of hilly terrain, some of our streets have grades up to 27%. We have a large tree canopy, so we're dealing with a lot of leafy debris, including pine needles."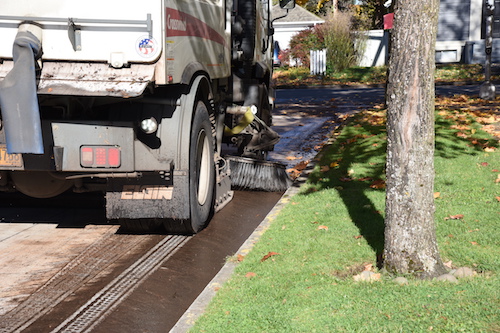 The schedule includes keeping a crew of nine operators busy during three shifts five days a week. Some of the sweepers work every shift, including the Crosswind.
"The Crosswind typically gets the job done in one pass, including picking up those pine needles. It's very quiet for night time operations, and its suction head is simple to adjust to keep sweeping productively," Spangler said. He added that operators also appreciate the sweeper's large suction tube, which prevents frequent clogging.
Measuring productivity by frequency, miles and volume, Spangler said the sweeper fleet maintains an aggressive schedule that sees downtown streets swept weekly, arterial roads swept every other week, and residential streets swept every six to eight weeks. During the course of an average year, the fleet sweeps more than 40,000 lane-miles and collects roughly 15,000 cu yd of debris.
The city streets include 259 miles of bikeways that need extra attention to keep cyclists safe. In addition, the fleet sweeps 43 miles of paved alleys, the wastewater treatment plant and the Eugene Airport.
To support seasonal leaf collection in November, December and January, sweeper operators are assigned to a leaf pickup team that includes a buncher for piling leaves, a loader and three trucks. Each of four zones in the city receives two rounds of leaf pickup during those months. Sweepers also clean up after wind storms and measurable snowfalls—a relatively infrequent occurrence that requires sweeping sand from the streets.
"It's a good service to the community and demonstrates an important value of our street sweeping operations," Spangler said.